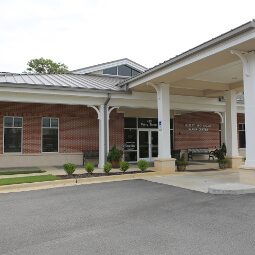 Harris Center
425 Perry St
Phone: (334) 501-2930
Hours:

M-F: 8AM-5PM

Ann Bergman
Public Relations Specialist
Phone: (334) 501-2936
Email: abergman@auburnalabama.org
LeisureLink: The City of Auburn's Parks and Recreation Weekly Newsletter
Week of November 18 - 24, 2019
Frank Brown Recreation Center Closed Nov. 23 - Dec. 2
The Frank Brown Recreation Center will be closed beginning Saturday, November 23 through Monday, December 2 due to floor maintenance. For more information regarding the center's closing contact Auburn Parks and Recreation at (334)501-2930.
Polar Express Tickets on sale now
All aboard the Polar Express! Children ages 12 and under are invited to this festive children's event on Saturday, December 7 at the Jan Dempsey Community Arts Center (JDCAC). Children are required to be accompanied by an adult ticket holder. Children 23 months and younger are FREE with the purchase of an adult general admission ticket.
The cost is $15/person plus online fees for participants 24 months and older. Make sure to purchase your tickets early because last year's event sold out! Ticket sales proceeds benefit the art education programming that is presented by the Auburn Arts Association at JDCAC and are therefore non-refundable. We appreciate your understanding and thank you for supporting our events.
Tickets are on sale now visit the JDCAC website: www.auburnalabama.org/arts. Please note: after entering in adult ticket holder information (including date of birth), you will be able to add free infant ticket(s) to your transaction. If you would like to go with your friends, purchase tickets for the same session!
The only Polar Express session available is the 8:00 a.m. session. Activities include holiday-themed crafts, hot chocolate and cookies, and much more. There will also be a special appearance by Santa and Mrs. Claus! Everyone is encouraged to wear their favorite holiday pajamas while participating in this festive event. The event will take place rain or shine.
Winter program registration going on now
The 2020 Auburn Parks and Recreation winter brochure is now available online. Printed versions are available at all Parks and Recreation facilities, the Auburn Public Library and Auburn City Hall. Registration for 2020 winter programs is going on now. Register in person at the Harris Center, 425 Perry Street
Visit auburnalabama.org/parks to view the winter brochure online. For additional information, contact Ann Bergman at abergman@auburnalabama.org or (334) 501-2930.
Daddy-Daughter Date Night
The 31st annual Daddy Daughter Date Night is coming up! Tickets will go on sale Monday, December 2nd, 2019. All dance nights will be held at the Clarion Inn & Suites on S. College Street. Daughters, dads, granddads, and uncles are invited to dance the night away and enjoy refreshments, door prizes, dance contests, keepsake photos, and an evening of memories. Special guests will also be in attendance! This year's theme is "Mad Hatter". Visit www.auburnalabama.org/parks to purchase your tickets starting at 8 a.m. on Dec. 2nd. Tickets are $35 for a father/daughter pair and $5 for each additional daughter.
Age(s) Date(s) Day(s) Time(s) Location
All R 2/6/20 5:30-8 p.m. Clarion Inn & Suites
F 2/7/20 6:30-9 p.m. Clarion Inn & Suites
SA 2/8/20 6:30-9 p.m. Clarion Inn & Suites
F 2/14/20 6:30-9 p.m. Clarion Inn & Suites
SA 2/15/20 6:30-9 p.m. Clarion Inn & Suites
Contact: Elizabeth Kaufman • (334) 501-2930 • ekaufman@auburnalabama.org
Jingle Jog and Santa Stroll registration continues
Jingle Jog and Santa Stroll
Are you ready for the 3rd Annual Jingle Jog 5k and Santa Stroll Fun Run? Pull out those ugly sweaters on Saturday, December 7th at 7 a.m. at Toomer's Corner and join Active Auburn as we ring in the holiday season.
Registration now at https://www.auburnalabama.org/parks/register/.
A schedule of registration fees is as follows:
Santa Stroll Fun Run:
Registration: Nov. 1 – Dec. 2: $20
Day-of Registration: Dec. 7: $25
Jingle Jog 5k:
Registration: Nov. 1 – Dec. 2: $25
Day-of Registration: Dec. 7: $30
In order to be guaranteed a t-shirt, participants must register by Monday, Nov. 18. A limited number of t-shirts will be available to late and race-day registrants on a first-come, first-served basis. Race day registration will begin at 6 a.m. in front of Pieology. Day-of registration ends at 6:45 a.m. for the Santa Stroll and 7 a.m. for the Jingle Jog.
Early packet pickup for both races will be on Friday, Dec. 6 from 8 a.m. – 7 p.m. at the Harris Senior Center. Race-day packet pickup will begin at 6 a.m.
For more information visit https://www.auburnalabama.org/parks/programs/active-auburn/ or contact Sarah Cook at scook@auburnalabama.org
YTC News
To read the latest news from Yarbrough Tennis Center, visit auburnalabama.org/tennis/ytc-news/.
Auburn Stride Walkers
Grab your sneakers and join Auburn's leisure walking program! Walkers will meet at one of our various walking trails or designated route weekly. Walks are held at your own pace and distance. Come for the fellowship, make new friends, and walk your way to a healthier lifestyle. The following are dates and locations where Stride Walkers will meet:
Nov. 20 Kiesel Park
Located off Chadwick Lane
Nov. 22 Hickory Dickory Park
1400 Hickory Ln. & N. Cedarbrook Dr.
Nov. 25 Jule Collins Smith Museum
Located on South College Street
Nov. 27 Auburn Public Library
Located at 749 East Thach Ave
Nov. 29 NO Walk - Holiday