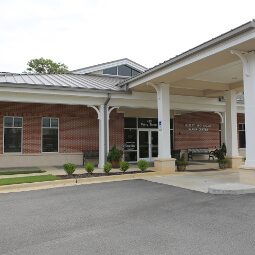 Harris Center
425 Perry St
Phone: (334) 501-2930
Hours:

M-F: 8AM-5PM

Ann Bergman
Public Relations Specialist
Phone: (334) 501-2936
Email: abergman@auburnalabama.org
LeisureLink: The City of Auburn's Parks and Recreation Weekly Newsletter
August 3 - 9, 2020
2020 Auburn Parks and Recreation Fall Brochure now available
The 2020 Auburn Parks and Recreation fall brochure is now available online and some printed copies are available at the Harris Center. Fall program registration will begin Monday, August 10 in person at the Harris Center, 425 Perry Street online registration is available for some programs, you may also mail in your application through the post office. Registration at the Harris Center will conclude Thursday, August 27 at 5 p.m., after that date the participant must register with the instructor. Go to auburnalabama.org/parks/brochure to view the fall brochure online. For additional information email Ann Bergman at abergman@auburnalabama.org or call 334-501-2930.
Itty Bitty Auburn Scavenger Hunt Returns Friday, July 31
Help us celebrate the City of Auburn Parks and Recreation's 50th Anniversary! It's time to break out the thinking caps and magnifying glasses for the Itty Bitty Auburn scavenger hunt. Beginning Friday, July 31st, participants can pick up a worksheet for the scavenger hunt at any Parks and Recreation facility or find it on the City of Auburn website, printed in select newspapers and on Facebook. The worksheet features 25 itty-bitty sites in various Auburn Parks and Recreation locations. Participants will find these sites and write the matching location on the worksheet. Completed worksheets must be turned in to the Harris Center by Monday, August 31st at 5 p.m. To be eligible for prizes, the worksheet must have correct answers for ALL itty bitty sites. Those who complete all 25 sites correctly on the worksheet will be entered into the Grand Prize drawing. Five winners will be announced and contacted on Friday, September 4th.
As part of the City of Auburn Parks and Recreation's 50th Anniversary celebration, we are celebrating our parks, arts, athletics, and facilities. To stay up-to-date on the Itty Bitty Auburn scavenger hunt, join the Facebook event group at facebook.com/activeauburn/. Hints regarding each of the sites will be published to the Facebook event group and on the Active Auburn Instagram page (@activeauburnal).
The 21st Annual Juried Photography Exhibition Winners Announced
The Auburn Arts Association has selected Merit Award winners for three separate categories for the 21st Annual Juried Photography Exhibition (Photo XXI), held at the Art Gallery in the Jan Dempsey Community Arts Center. The awards are as follows:
• $200 William Penn White Jr. Merit Award to Belinda Rhodenizer for "Echoing Waters"
• $150 Jan Dempsey Arts Center Merit Award to John Rhodenizer for "Among the Cypress"
• $125 City of Auburn Merit Award to Brenda P. Miller for "Mirror Me This"
• $100 Auburn Arts Association Merit Awards to Henry Eiland for "The Ghost Ballet", John Hillsman for "Bridge to Blue", Marg Laughlin for "Where has the Time Gone?", Kim McRae for "17th Street, B'ham, AL", Bryan Peters for "Abstract Iron", Bob Quarels for "Colorado Sunset", David Smith for "Corrugated 3" and Frank Uhlig for "Hutong in a City of 60 Million"
The Photo XXI Merit Awards were selected by Will York, the director and curator of the Raining Dogs Studio and Gallery in Dadeville, Alabama. The exhibition will be on display through August 21, 2020.
For more information about the 21st Annual Juried Art Exhibition and Reception, please contact the Jan Dempsey Community Arts Center at (334) 501-2963 or visit auburnalabama.org/arts.
City Market every Saturday through end of August
City Market will return to Town Creek Park on Saturdays from 8-11 a.m. every Saturday through Aug. 29.
Parking will be available for all market attendees in the gravel parking lot across from Town Creek Park. All market visitors must maintain a minimum of 6 feet between one another. All vendors will follow the state sanitation guidelines regarding farmers markets, including:
Food samples will not be served, and cooking demonstrations will not be allowed.
Vendors will maintain a 10-foot distance from one another.
All vendors will wear food-safe serving gloves and will designate one worker to handle payment.
We recommend that vendors wear face masks.
All available products will be prepackaged.
To allow the maximum number of community members to visit the market, loitering and social gatherings will not be permitted at the market. We ask that you please purchase your products and promptly exit the parking lot for others to easily access parking spots. Animals will not be allowed to attend the market. High-risk community members and those feeling ill should not attend the market. Masks are not required but encouraged.
We look forward to starting our City Market season while enforcing social distancing and sanitation guidelines. For more information regarding City Market, please contact Sarah Cook at scook@auburnalabama.org or visit auburnalabama.org/parks/programs/city-market.
Samford Pool is open for lap swim only
Samford Pool is now open. The pool will be open to the community for lap swimming only. Recreational swimming, swim lessons and all other pool events will be canceled through July 6.
Those registered for swim lessons through July 6 will be issued a refund. Those that would like to lap swim at Samford Pool throughout the summer must purchase a Lap Swim Pass in advance at auburnalabama.org/parks/register for $50. Lap swim passes will go on sale Wednesday, May 13. A copy of your lap swim pass will be emailed to you to present when entering the pool. A copy of your lap swim pass will be available for pick up on May 23 at Samford Pool.
All lap swimmers must obey the following rules:
Lap swimmers must show a copy of their lap swim pass when they arrive at the pool. You will then be directed to a lane.
Only lap swimmers will be allowed to enter the facility. Additional family members will not be allowed to wait on the lap swimmer within the facility unless a child wishes to lap swim. If a child, under the age of 12 wishes to lap swim, a parent will be required to stay and supervise the swimmer in the outdoor seating area.
Only 10 lap swimmers are permitted in the pool at once. While not required, reservations can be made up to 24 hours in advance for a 30-minute lane session by calling 334-501-2957. Swimmers may only reserve one 30-minute lane session per day. Those who do not make a reservation will be assigned a lane on a first-come, first-serve basis upon arrival.
Reservations will be accepted beginning Friday, May 23, at 8 a.m.
Sharing lanes is not permitted.
Concessions, bathroom, locker rooms and showers will not be available for public use. The family restroom will be available for emergency use only.
A 6-foot distance must be maintained by all swimmers while in the facility.
Kickboards will be available for use but must be placed in the diving well once swimmers are finished.
Samford Pool will be open for the following hours for Lap Swim only:
Monday-Saturday
6 a.m.-1 p.m.
2-6 p.m.
Sunday
Noon-5 p.m.
Yarbrough Tennis Center Updates
City of Auburn Tennis Clinics for children and adults for the months of September, October and November will be available for sign-up starting on Monday, 10 August. We are only accepting a very limited number of students in order to provide the best possible situation to carry out COVID-19 precautions. To see all the details and possibly sign-up go online to www.auburnalabama.org/tennis/ and scroll down to the clinics section of the page.
YTC takes the corona virus seriously. At Yarbrough Tennis Center everyone must practice social distancing and the facility is being cleaned often. It's all players responsibility to social distance and practice good hand washing and no shared equipment.
New ball machine for rent at YTC. Rent the machine for $10 an hour. Members may reserve the ball machine in advance. For more information contact YTC 501-2920 or email shill@auburnalabama.org.
Auburn Stride Walkers
Auburn Stride Walkers will not meet until further notice
Grab your sneakers and join Auburn's leisure walking program! Walkers will meet at one of our various walking trails or designated route weekly. Walks are held at your own pace and distance. Come for the fellowship, make new friends, and walk your way to a healthier lifestyle. This program is open to all ages and is free to the public. Participants are encouraged to bring bottled water and wear comfortable walking shoes. For more information, please contact Wendy Thomas at 334-501-2962. Walks will be held at the Village Mall on rainy days or when the temp. is 35 degrees and below. Call time and temp. @ 334-745-6311 for current conditions.
Walks will be held on Mondays, Wednesdays, and Fridays at 9 a.m. Participants can walk at their own pace and distance.
UPCOMING SCHEDULE: