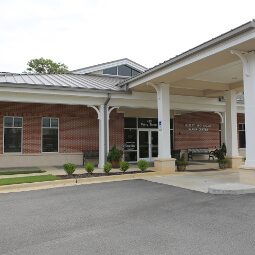 Harris Center
425 Perry St
Phone: (334) 501-2930
Hours:

M-F: 8AM-5PM

Gabrielle Filgo
Community Programs Coord
Phone: (334) 501-2946
Email: gfilgo@auburnalabama.org
Please register in advance for events at the Harris Center Monday through Friday 8am - 5pm. Fall registration begins Monday, August 5th . The first two weeks of registration are reserved for Auburn residents.
Movie Night at the Harris Center
Nothing like enjoying food and a good flick together! Come join us for a movie and dinner on select Thursday nights this summer. More movie suggestions welcome! $5 (includes dinner). Payable to the AAB.
September • POMS
October • Apollo 11 (Documentary)
November • The Lion King (2019)
Age: 50+ Day: Thursday Dates: 9/19, 10/10, 11/14 Time: 5:30 - 8 p.m. Location: Harris Center
Bocce Ball and Cookout
Come help us break in the new bocce ball courts at Martin Luther King Park with a fun gathering and cookout! Bocce ball is a sport that is enjoyed by teams of 2-4 players. It has similar rules, set-up and strategy to shuffleboard and horseshoes. We will play for fun so feel free to try your hand at a new activity!
FREE to the public, but please bring a dessert to share. Lunch provided. Please register by Monday, September 2nd at 5pm.
Age: 50+ Day: Friday Date: 9/6 Time: 11:30 a.m. - 2 p.m. Location: MLK
Halloween Match Game and Dinner
Join us for the Halloween version of Match Game! Match Game features two competitors and a panel of six "celebrities." Competitors answer questions and the panelists try to match their answers. After three rounds of the game, the remaining player competes against three panelists. Each matching answer increases their winnings. In the final round, the player spins the star wheel. Prizes will be awarded for the winners of Match Game as well as the best costume so come dressed to scare!
$5 per person. Payable to the AAB. Register by Friday, October 11th at 5pm.
Age: 50+ Day: Wednesday Date: 10/16 Time: 6-8 p.m. Location: Harris Center
Technology Tutoring Day
Do you have a smart phone, tablet or laptop that seems to be more trouble than its worth? Do you enjoy your new, fancy device, but wish you knew how to do more with it? Let us help you! Join us for our first ever Technology Tutoring Day where you will be paired one-on-one with a volunteer from the community who will help you learn how to navigate your new-fangled gadget! Please bring one device to the tutoring session with one or two skills in mind that you wish to master.
Participants MUST register in advance no later than Friday, November 1st at 5pm. Program limited to 30 participants. Refreshments provided. FREE to the public.
Age: 50+ Day: Saturday Date: 11/9 Time: 9 a.m.-Noon Location: Harris Center